Apply now! Certificate in Psychedelic-Assisted Therapies (CPAT)
Mind Medicine Australia (MMA) is a charity that seeks to alleviate the suffering caused by mental illness in Australia through expanding the treatment options available to medical practitioners and their patients. We are focused on the development of safe and effective psychedelic-assisted therapies to cure a range of mental illnesses.
To this end, MMA has developed the Certificate in Psychedelic-Assisted Therapies (CPAT) in collaboration with leading PAT practitioners in the USA and UK.
The MMA CPAT will give qualified clinicians the additional skills and awareness they need in order to safely and successfully facilitate PAT. Instruction will focus on a standardized approach to PAT that can be integrated with clinicians' existing psychotherapeutic experience and training. The CPAT will include a mix of face-to-face, self-study and online learning components.
The course has been developed specifically with the objective of providing the clinical training necessary for existing qualified psychiatrists, psychologists, psychotherapists, GPs, physicians, mental health nurses, social workers, occupational therapists, drug and addiction specialists to work with patients utilising psilocybin and MDMA therapeutically in clinical environments.
PAT is not yet legal in Australia. However, given the impressive early clinical evidence to date, and the near-term regulatory changes predicted in the US and EU subject to forthcoming data, this therapist training program will play a major part in responsibly preparing the Australia context for regulatory changes in the coming years. In the likely event that PAT is registered as a new treatment in Australia, there will be an immediate demand for clinicians trained in the safe and effective provision of PAT at that time. Graduates of our training program will be well positioned to meet this demand.
Testimonials
"Mind Medicine Australia continues to impress. I have completed various higher education qualifications, as well as the less formal experiential retreats and personal development courses, from the quirky, to the evidence based. The CPAT provides a holistic framework that encapsulates a strong academic approach and faculty with a truly authentic therapeutic model. It would not be an exaggeration to say that the CPAT is life changing."
Kelly Rae, Psychotherapist, NSW 
"The CPAT has exceeded all expectations I had when I applied. I highly recommend this course to anyone in the field. The expertise and networking are second to none. I feel part of something that will change the future of mental health in Australia."
Vasileios Tsaikalis, Psychotherapist, NSW 
"This weekend was the most rounded professional development I can remember doing – I felt nourished in mind, soul and body.  Not usually a networker, I surprised myself by connecting with many people that I am sincerely looking forward to meeting again and hopefully working with in the future.  Even though the programme was intense, I feel inspired not exhausted; I think this is because there was such a supportive and empathic group of facilitators and participants.  My gratitude to Mind Medicine Australia – I'm wearing our T-shirt as I sit at the airport & type, just hoping for when someone asks me what this is all about!"
Dr Ria Leonard, Psychiatrist, NSW 
"The most engaging, interesting and enjoyable course I have attended."
Dr Eoin Wilson, Psychiatrist, NSW
"I had the most wonderful and profound weekend. Thank you for allowing us to experience Holotropic Breathwork. Please know by doing so you are allowing us to better support our clients by supporting ourselves."
Chloe Panayiotou, Psychologist, VIC 
"The course to date has been priceless and an invaluable opportunity to be a part of the medicine work moving into the future. I cannot recommend it highly enough!"
Jon Hart, Psychologist, QLD 
"The holotropic breathwork weekend intensive was beautiful. It just feels like I belong here, in this group, in this work. Overall, I find this group and the breadth of content covered in this course immensely gratifying and reassuring."
Vincent Clementine, Counsellor, VIC 
"What a pleasure to be a part of the first cohort of MMA's Certificate in Psychedelic Assisted Therapies. The quality and breadth of the material presented at our first weekend of in-house teaching was remarkable; as was the experience and diversity of the participants. I have increasing hope and optimism that as the rescheduling of psychedelics is considered and more practitioners seek training in this field, people living with treatment resistant mental illnesses in Australia may soon have safe access to these potentially transformative medicines. I'm excited to have met so many people passionately working to facilitate this."
Dr Jo Howe, GP, TAS 
"What an incredible course! I met so many incredible colleagues who are now friends and learnt so much- my brain is bursting! Amazing value- we were absolutely spoilt. What a wonderful thing to be part of."
Ella Morter, Counsellor, QLD 
"This course is clearly run by passionate and dedicated people. The MMA teaching team seem to have taken every step to make this course a truly top tier program. I can't wait for the next weekend intensive: holotropic breathwork."
James Steevenson, Mental Health Nurse, VIC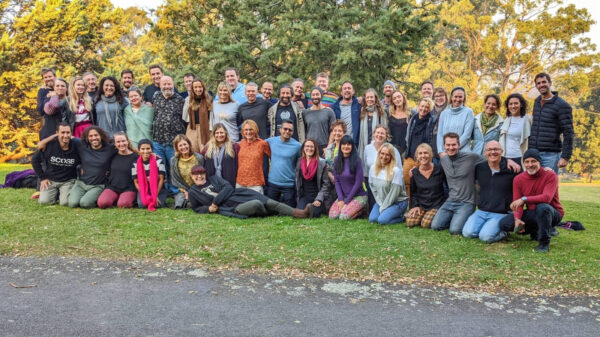 Scholarships
10 scholarships are available to outstanding female health professionals from the Northern Rivers Region
Mind Medicine Australia is delighted to announce that it will offer 10 scholarships for its Certificate in Psychedelic-Assisted Therapies (CPAT) for female psychiatrists, GPs, physicians, nurses, psychologists, psychotherapists, social workers, counsellors and occupational therapists in the Northern Rivers Shire of NSW.
These scholarships will provide 50% of the course fee to outstanding female practitioners of all ages who reside in the Shire. Particular priority will also be given to those in financial need and culturally diverse practitioners, including those from indigenous, multicultural, and multi-faith backgrounds and those working with special needs communities. We acknowledge the generous philanthropic support of the Vasudhara Foundation towards this program.
Practitioners will need to meet the selection criteria and attend a ZOOM interview for Intakes 3 and 4 of the CPAT course. We hope to announce the 10 scholarship recipients later this year.
Online Course
The Fundamentals of Psychedelic-Assisted Therapy for Mental Health
Mind Medicine Australia is delighted to announce the launch of a new online course, The Fundamentals of Psychedelic-Assisted Therapy for Mental Health. This course will help people understand the foundations of psychedelic-assisted therapy and the application of their use in the treatment of chronic mental illness. This course is open to anyone with an interest in the topic.
You can see what the program will cover here: