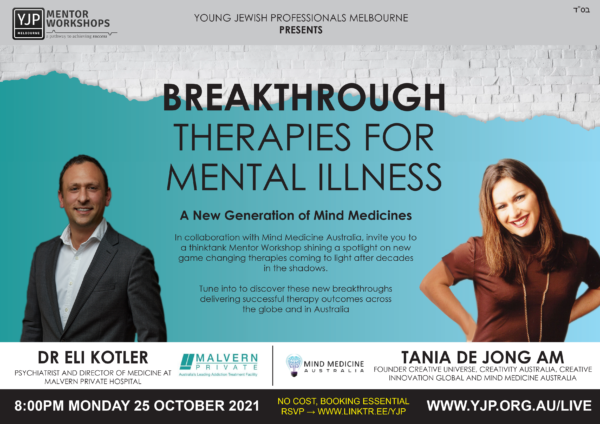 Next up on the YJP Mentor Workshop roster we're syncing into Mental Health Month with a collab event hosted together with Mind Medicine Australia 🧠
Join us for a LIVE think tank session hosted by two ever wise authorities making waves leading to a shake up and change in the Mental Health treatment and recovery space.
💡 Eli Kotler | Psychiatrist And Director Of Medicine At Malvern Private Hospital
💡 Tania De Jong Am | Founder Creative Universe, Creativity Australia, Creative Innovation Global And Mind Medicine Australia
Join us to hear these two change makers shine the spotlight on new therapies, research and successes of a new generation of Mind Medicine therapy breaking through worldwide and in Australia!
The Presenters
Dr Eli Kotler
MBBS MPM FRANZCP Cert. Old Age Psych. AFRACMA
Psychiatrist and Medical Director at Malvern Private Hospital
Eli is a consultant psychiatrist, holds an academic position at Monash University through the Alfred Psychiatry Research Centre, and is the medical director of Malvern Private Hospital, the first addiction hospital in Australia. He is a member of the Australasian Professional Society on Alcohol and other Drugs (APSAD). Clinically, Eli is interested in the deep connections between trauma and addiction and works within a neuro-psychoanalytic framework. Eli has overseen the development of a clinical program for addictions focused on trauma, particularly developmental trauma. This has led to an interest in medication-assisted trauma therapy. Eli worked for many years researching neurodegenerative diseases and was the principle investigator on numerous trials for novel therapeutics. He is founding member of the Melbourne Neuropsychoanalytic Group and welcomes new members. Through involvement with Monash University, Eli oversees the addiction rotation for medical students.
Eli graduated from the first intake of the Certificate in Psychedelic-Assisted Therapies (CPAT) in June 2021. He has also been recently appointed as the Principal Investigator to lead Emyria's upcoming MDMA trial.
Tania de Jong AM
LL.B (Hons), GradDipMus
Co-founder Mind Medicine Australia, Founder Creative Universe, Creativity Australia, The Song Room & Creative Innovation Global
Tania de Jong AM is a trail-blazing Australian soprano, award-winning social entrepreneur, creative innovation catalyst, spiritual journey woman, storyteller and global speaker. Tania is one of Australia's most successful female entrepreneurs and innovators developing 6 businesses and 4 charities including Creative Universe, Creativity Australia and With One Voice, Creative Innovation Global, Mind Medicine Australia, Dimension5, Umbrella Foundation and Driftwood – The Musical, MTA Entertainment & Events, Pot-Pourri and The Song Room.
She works across the public, private, creative and community sectors.  Tania speaks and sings around the world as a soloist and with her group Pot-Pourri releasing twelve albums. She was Founder and Executive Producer of the award-winning future-shaping events series, Creative Innovation Global.  She was appointed a Member of the Order of Australia in June 2008 and named one of the 100 Women of Influence and the 100 Australian Most Influential Entrepreneurs and as one of the 100 most influential people in psychedelics globally in 2021.
Tania's TED Talk How Singing Together Changes The Brain has sparked international interest.  Tania's mission is to change the world, one voice at a time!