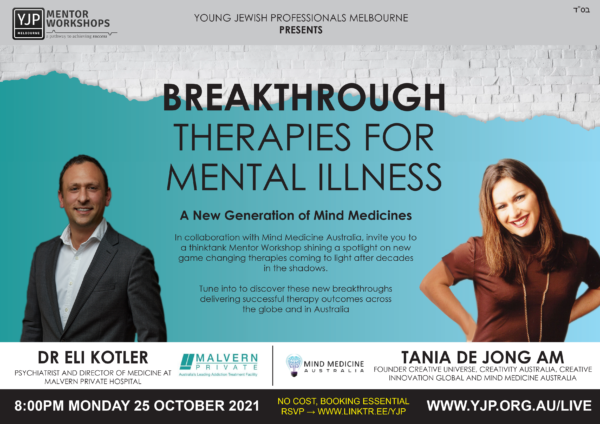 Next up on the YJP Mentor Workshop roster we're syncing into Mental Health Month with a collab event hosted together with Mind Medicine Australia ?
Join us for a LIVE think tank session hosted by two ever wise authorities making waves leading to a shake up and change in the Mental Health treatment and recovery space.
? Eli Kotler | Psychiatrist And Director Of Medicine At Malvern Private Hospital
? Tania De Jong Am | Founder Creative Universe, Creativity Australia, Creative Innovation Global And Mind Medicine Australia
Join us to hear these two change makers shine the spotlight on new therapies, research and successes of a new generation of Mind Medicine therapy breaking through worldwide and in Australia!
The Presenters
Dr Eli Kotler
MBBS MPM FRANZCP Cert. Old Age Psych. AFRACMA
Psychiatrist and Medical Director at Malvern Private Hospital
Eli is a consultant psychiatrist and psychodynamic psychotherapist. He is the Medical Director of Malvern Private Hospital, an addiction and trauma hospital in Melbourne. Eli completed the inaugural CPAT course, and has since been on its faculty. He was appointed as the course's Australian Course Director in 2023.
As a psychiatric trainee, Eli was awarded the Royal College of Psychiatrists Trainee Prize for his Scholarly Project on Depression, as well as a Research Committee Trainee award for his work on Philosophy of Mind. As an adjunct lecturer at Monash University, he oversees medical students on their addiction medicine rotation. He has been invited as a key-note speaker to several conferences and meetings to discuss addictions, trauma and psychedelics. Eli sits on the Committee of the ANZMHA to help organise their yearly addiction conference. He also sits on the inaugural Clinical Advisory Group for the Victorian Responsible Gambling Foundation. Eli is an Associate Fellow of the Royal Australasian College of Medical Administrators, and is a member of the Australasian Professional Society on Alcohol and other Drugs. He also has extensive research experience with novel therapeutics for neurodegenerative diseases.
Due to his interest in trauma, Eli has been appointed an Independent Medical Examiner by WorkSafe Victoria. He has been appointed by the Minister for Workplace Safety to sit on the Victorian Medical Panels, and is an expert witness in historical abuse cases.
Clinically, Eli works in a psychodynamic framework, and attempts to help his patients find freedom from their addictions and trauma through relational experiences, and experiential self-awareness. He is part of the AFL Player's Association referral network for addiction issues, and his interests in depth-psychology and neuroscience led him to found the Melbourne Neuropsychoanalytic Group.
Tania de Jong AM
LL.B (Hons), GradDipMus
Co-founder Mind Medicine Australia, Founder Creative Universe, Creativity Australia, The Song Room & Creative Innovation Global
Tania de Jong AM is the co-Founder and Executive Director of Mind Medicine Australia. She regularly presents on psychedelic-assisted therapies, mental health and wellbeing at major conferences and events around the world and to Governments, regulators, clinicians, philanthropists and the general public.
Tania is one of Australia's most successful female entrepreneurs and innovators developing 6 businesses and 4 charities including Creative Universe, Creativity Australia and With One Voice, Umbrella Foundation, Creative Innovation Global, Pot-Pourri and The Song Room.
Tania was named in the 100 Women of Influence, the 100 Australian Most Influential Entrepreneurs and named as one of the 100 most influential people in psychedelics globally in 2021. Tania's TED Talk has sparked international interest. Tania has garnered an international reputation as a performer, speaker, entrepreneur and a passionate leader for social change. Her mission is to change the world, one voice at a time!