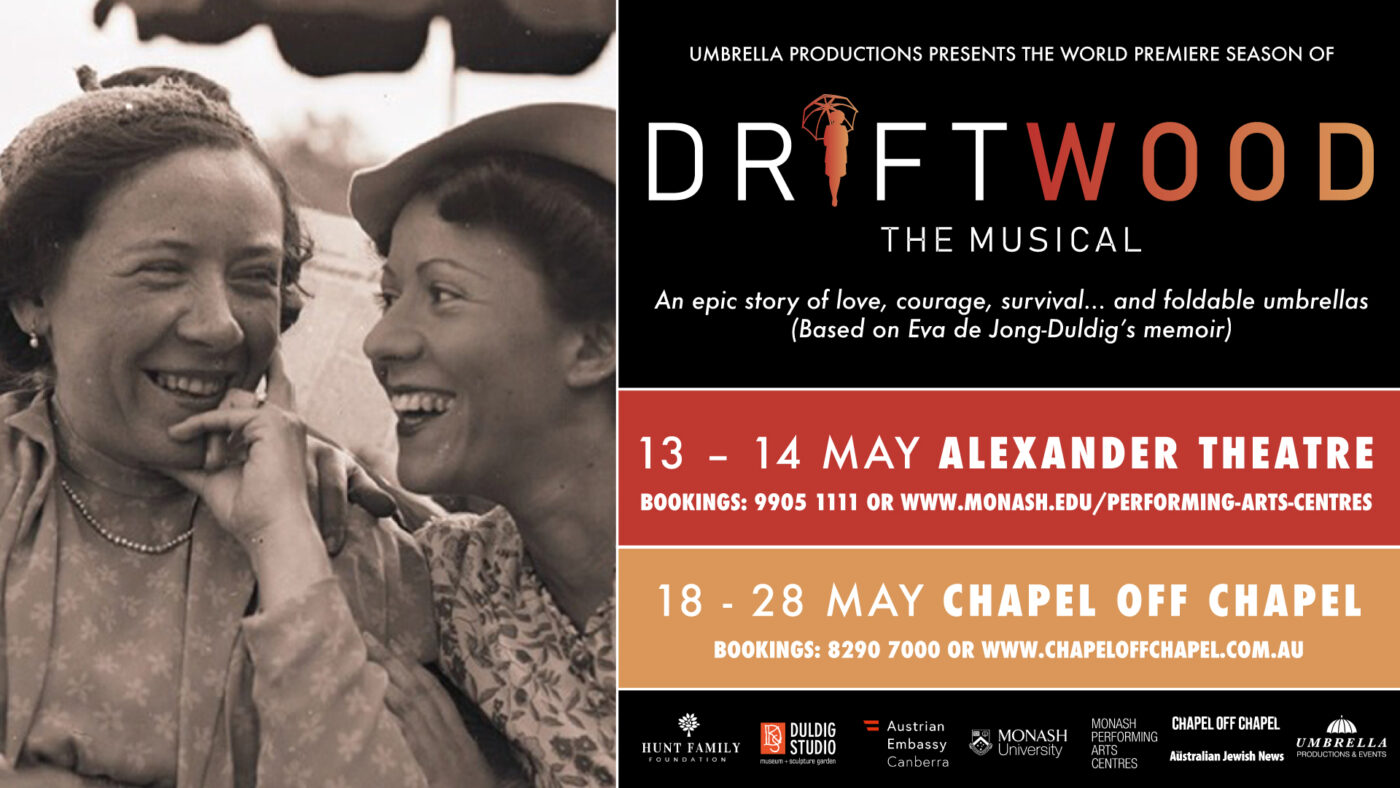 Healing Intergenerational Trauma Through Story: Driftwood the Musical
The stories we tell ourselves define the world we live in. They define how we relate to our past, our present and our future. By taking control of these stories, we can re-author them to a place where we are empowered and resilient. This is a key element of integration and healing in psychotherapy.
As survivors of the holocaust, Mind Medicine Australia's co-founder Tania de Jong AM and her family are all too familiar with the scars of intergenerational trauma. Having fled Europe just before the Nazis invaded their home, they were forced to leave everything behind to save their lives.
But in that trauma, there is also the opportunity for courage, compassion and triumph over adversity. To go from victim to survivor, and rebuild a life filled with hope, love and joy.
Driftwood the Musical is this story, the deeply personal story of the Tania de Jong AM's family, and a huge part of why she founded Mind Medicine Australia.
Performance Dates & Times
Alexander Theatre (13 – 14 May 2022):
13 May – 1pm and 7:30pm
14 May – 2pm and 7:30pm
Chapel Off Chapel (18 May 2022 – 28 May 2022):
Opening Night – 7:30pm
Wed & Thu – 1pm & 7:30pm
Fri – 7:30pm
Sat & Sun – 2pm & 7:30pm
The Presenters
Driftwood – The Musical
An epic story of love, courage, survival... and foldable umbrellas.
Umbrella Events in association with Creative Universe is delighted to present the world premiere performances of Driftwood – The Musical. This epic story has been adapted for the stage by award-winning playwright Jane Bodie, based on the original memoir by Eva de Jong-Duldig. It features original Music and Arrangements by Anthony Barnhill with Lyrics by Tania de Jong AM and Jane Bodie. Acclaimed Director Gary Abrahams brings a stellar cast to the stage.
Driftwood – The Musical tells the inspirational story of the renowned Austrian/Australian sculptor Karl Duldig and his artist/inventor wife, Slawa Horowitz-Duldig. We follow their lives in pre-war Vienna, Slawa's ingenious invention of the foldable umbrella, and an incredible chain of events after miraculously escaping the Holocaust and rebuilding their careers as artists in Melbourne. A magical story of art and creativity, survival and perseverance, family, freedom and love.
Tania de Jong AM
LL.B (Hons), GradDipMus
Co-founder Mind Medicine Australia, Founder Creative Universe, Creativity Australia, The Song Room & Creative Innovation Global
Tania de Jong AM is the co-Founder and Executive Director of Mind Medicine Australia. She regularly presents on psychedelic-assisted therapies, mental health and wellbeing at major conferences and events around the world and to Governments, regulators, clinicians, philanthropists and the general public.
Tania is one of Australia's most successful female entrepreneurs and innovators developing 6 businesses and 4 charities including Creative Universe, Creativity Australia and With One Voice, Umbrella Foundation, Creative Innovation Global, Pot-Pourri and The Song Room.
Tania was named in the 100 Women of Influence, the 100 Australian Most Influential Entrepreneurs and named as one of the 100 most influential people in psychedelics globally in 2021. Tania's TED Talk has sparked international interest. Tania has garnered an international reputation as a performer, speaker, entrepreneur and a passionate leader for social change. Her mission is to change the world, one voice at a time!