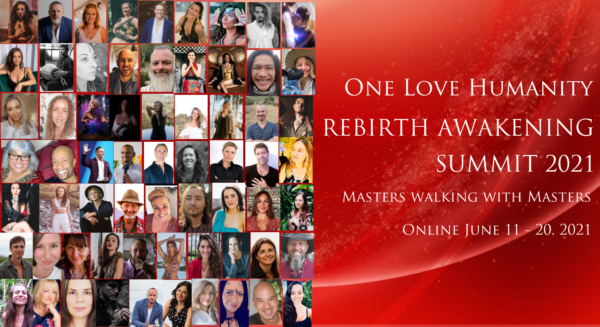 ONE LOVE HUMANITY 'THE REBIRTH AWAKENING' SUMMIT
ALCHEMY. CEREMONY. HEALING. ART. CREATIVITY. INTIMACY. ABUNDANCE
11th JUNE TO 20th JUNE 2021
These times are wild and uncertain – adventuring into the unknown.
Following the current of love.
Connecting to our wolf pack, tribe and community.
Sharing and uniting our passion, purpose, and vision rather than being divided by our missions.
Coming together as a Unified Race.
Masters walking alongside Masters.
Transforming fear into wild love, pleasure, magic and abundance.
Planetary Consciousness
It's TIME.
The world is going through a metamorphosis, mammoth rites of passage and awakening. We are coming out of the shadows. We are waking up. We are saying YES to the evolution.
You have two choices:
Number 1.. You buy into the chaos, destruction and disease, you stay in the victimhood and resent the authorities for failing you, you stay comfortable and wait for things to happen for you, you stay imprisoned within the old belief systems and paradigms and looped into a cycle of suffering, scarcity and fear… you basically do nothing and just become a part of the mess.
Or?!
Number 2.. You hear the call within your heart and you become the beam of light within these times of change, chaos or confusion! You rise up, accept the role you play personally and collectively and choose to focus your attention on CREATION of the NEW PARADIGM of LEADERSHIP.
We all came here for a reason and we are calling you forward to unite and birth the new reality with us. We can't do it on our own, neither can you. This will take an army of heart-centred warriors that are willing to walk the path irregardless of projections, fears, limitations or seeming hopelessness.
WE GET TO CHOOSE OUR HIGHEST TIMELINES, for ourselves, our lovers, families, community and Pachamama. We are the warriors who continue to make choices that are infused with creativity, imagination, connection, growth and the betterment of the whole no matter what the odds are, how many challenges we are faced with, our comfort, security, fears. We are continually pioneering a new path. A new way. A new system. A new dream. A new vision.
Many of us have come to be part of this extraordinary change that is occurring.
We don't have to. But we can.
Because we are ready.
Because we are the warriors of the earth.
Because we have the roaring spirit of our ancestors who stood before us in our blood, bones, fur and heart.
We are calling upon you to join us and deeply CLAIM that this is the role you came here to play, that this is
OUR calling,
OUR mission,
OUR purpose.
Let's no longer be SHY about it. We want to hear you loud and clear!
Each of us holds a key to this Awakening.
Each of us holds a key to this REBIRTH.
Our vision is ultimately to create more VOICE and AWARENESS around;
WORLD PEACE
CEREMONY, RITUAL AND THE ANCIENT WAYS
INTIMACY AND CONNECTION
REIGNING THE FLAME: MISSION & PURPOSE
MEDICINE ELDERS, WISDOM KEEPERS & WARRIORS
INITIATION & RITES OF PASSAGE FOR MEN, WOMEN, COUPLES & CHILDREN
CONSCIOUS LEADERSHIP & EMOTIONAL-INTUITIVE INTELLIGENCE
BODY LOVE, WELLNESS AND HEALTH
SACRED SEXUALITY AND PLEASURE
SACRED MARRIAGE, LOVE AND RELATIONSHIPS
BLUE MAN, THE MIND, EGO TRAPS
WEALTH CREATION AND CONSCIOUS BUSINESS
THE NEW MONEY CURRENCY
FEMININE ALCHEMY & MEN'S BUSINESS
EMBODIMENT PRACTICES
HEALING PRACTICES
DANCE PRACTICES
Together, we can build a movement for the next evolutionary blueprint for our Earth.
Within this Summit, you will be able to receive transmissions from a wide variety of unique leaders in the arena of leadership, relating, sexuality, consciousness or health. These speakers will invite you to uncover the parts of you that are not integrated or not in alignment with the highest version of yourself.
Moreover, we will invite you to dream bigger. We will invite you to become the leader yourself and stand for humanity. A lot of us are spending a lot of time focusing on their own journey, forgetting about how simple it can be to impact others. This summit is about working on self as well as making the difference – NOW.
All our love,
Mary Mikhael & Jonathan David
One Love Humanity team of warriors
The Presenters
Tania de Jong AM
LL.B (Hons), GradDipMus
Co-founder Mind Medicine Australia, Founder Creative Universe, Creativity Australia, The Song Room & Creative Innovation Global
Tania de Jong AM is the co-Founder and Executive Director of Mind Medicine Australia. She regularly presents on psychedelic-assisted therapies, mental health and wellbeing at major conferences and events around the world and to Governments, regulators, clinicians, philanthropists and the general public.
Tania is one of Australia's most successful female entrepreneurs and innovators developing 6 businesses and 4 charities including Creative Universe, Creativity Australia and With One Voice, Umbrella Foundation, Creative Innovation Global, Pot-Pourri and The Song Room.
Tania was named in the 100 Women of Influence, the 100 Australian Most Influential Entrepreneurs and named as one of the 100 most influential people in psychedelics globally in 2021. Tania's TED Talk has sparked international interest. Tania has garnered an international reputation as a performer, speaker, entrepreneur and a passionate leader for social change. Her mission is to change the world, one voice at a time!