Join this FREE WEBINAR. Don't miss out – Get your tickets early!
Trauma, Illness & Healing in a Toxic Culture.
Presented by Dr Gabor Maté (Canada)
Half of North American adults suffer from chronic illness – this fact is viewed by Western medicine largely in terms of individual predisposition and habits. Western medicine imposes two separation of which neither are tenable scientifically.
First, Western practice separates mind from the body – largely assuming most chronic illnesses as having nothing to do with people's emotional or psychological experiences. And yet, a large and irrefutable body of research has clearly shown that physiological and behavioural functioning of human beings can be understood only if we integrate our bodily functions with those of the mind: functions such as awareness, emotions, our interpretations of and responses to events, and our relationships with other people.
Second, Western practice views people's health as separate from the social environment, ignoring social determinants of health such as class, gender, economic status, and race. In reality, such factors are far more important influences on health and longevity than solely individual predispositions and personal factors such as genes, cholesterol levels, blood pressure and so forth.
This webinar will show you how a society dedicated to material pursuits rather than genuine human needs and spiritual values stresses its members, undermines healthy child development and dooms many to chronic illness – from diabetes to heart disease, from auto immune conditions to cancer. Dr Gabor Maté's talk will also weave in the importance of psychedelic-assisted therapies to help us heal from a range of mental stresses exacerbated by our increasingly toxic and traumatised world.
WHAT YOU WILL LEARN
How to identify the two separations imposed by Western Medicine on the health and well-being of the population
Three chronic conditions that are correlated with stressful social environments
One shift in focus that would support a healthier population
You will then have the opportunity to ask Dr Maté any questions.
EVENT DETAILS
DATE: Tuesday 5th December
TIME: 12:55pm (AEST) for 1:00pm start, finishing at 2:15pm
DURATION: 75 minutes (incl Q&A)
LOCATION: Online – a link will be emailed to you with the viewing details
ABOUT THE PRESENTER
Dr Gabor Maté CM
Physician and Author
BA, MD, Doctor of Laws (honoris causa)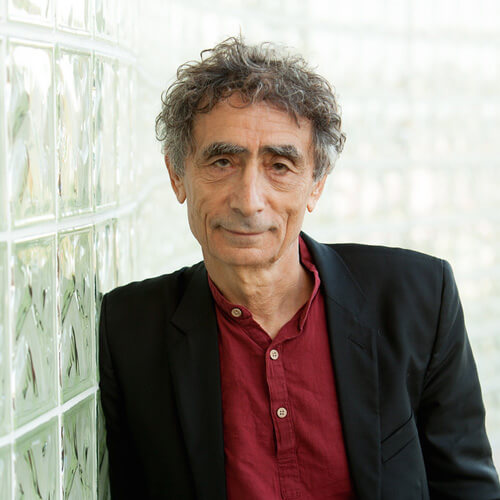 Gabor Maté (pronunciation: GAH-bor MAH-tay) is a retired physician who, after 20 years of family practice and palliative care experience, worked for over a decade in Vancouver's Downtown East Side with patients challenged by drug addiction and mental illness. The bestselling author of four books published in twenty-five languages, Gabor is an internationally renowned speaker highly sought after for his expertise on addiction, trauma, childhood development, and the relationship of stress and illness.
His book on addiction received the Hubert Evans Prize for literary non-fiction. For his groundbreaking medical work and writing he has been awarded the Order of Canada, his country's highest civilian distinction, and the Civic Merit Award from his hometown, Vancouver. His books include In the Realm of Hungry Ghosts: Close Encounters With Addiction; When the Body Says No; The Cost of Hidden Stress; Scattered Minds: The Origins and Healing of Attention Deficit Disorder; and (with Gordon Neufeld) Hold on to Your Kids: Why Parents Need to Matter More Than Peers. To learn more, join his e-news list at www.drgabormate.com.
—
MEDICINAL PSYCHEDELIC TREATMENTS
Psychedelic-assisted treatments offer enormous potential in providing a meaningful alternative to current treatments for mental illness. PTSD is a debilitating condition that affects tens of millions of people worldwide, with many more trauma victims diagnosed with comorbid conditions such as depression, anxiety and eating disorders. In recent clinical trials, MDMA has been shown to produce reliable clinical improvements, restoring patient safety and self-agency even for individuals who have suffered with PTSD for many years, and for whom many treatments have failed.
The wave of clinical psychedelic research and regulatory support is rapidly building, with experts forecasting the availability of psychedelic-assisted treatments in the US and EU within the next 2 to 5 years, subject to positive clinical outcomes in large trials that are currently underway.
SUPPORT PSYCHEDELIC RESEARCH AND THERAPY DEVELOPMENT
Your donation to Mind Medicine Australia will help us accelerate the availability and best practice of psychedelic-assisted psychotherapy in Australia. We are a small organisation doing big things – we need your support. Please click here to make a tax-deductible donation.
DISCLAIMER
Mind Medicine Australia does not encourage or facilitate illegal use of psychedelics or plant medicines. MMA focus is focused on clinical and legal use only supported by the emerging science and legislative processes. Mind Medicine Australia reserves the right to record and publish webinars on various social media platforms. You agree that you will not discuss any names, locations or specific details of illegal use of psychedelics both verbally or via any written forms of communication via Mind Medicine Australia social media platforms i.e. Facebook, Instagram or zoom private and public chat forms during the webinar. Breaches of these guidelines may result in not being able to participate in the event. We thank you for support and cooperation on these matters. Mind Medicine Australia is focused specifically on the clinical application of medicinal psilocybin and medicinal MDMA for certain mental illnesses.