HURRY! GET YOUR 2 FOR 1 TICKETS NOW.
We would love to invite you to celebrate the wonderful community in the Northern Rivers region. If you're in or around Byron Bay this weekend, please join us at the Psychedelic Medicine Symposium this Sunday the 27th and Monday 28th of June with exclusive film screenings of Trip of Compassion and Fantastic Fungi.
We are delighted to be able to gift you a special 2 tickets for 1 offer for the Symposium, the screenings of Trip of Compassion and Fantastic Fungi on Sunday and Monday respectively.
This gift can ONLY be activated at the checkout with the promo code "mmabyron".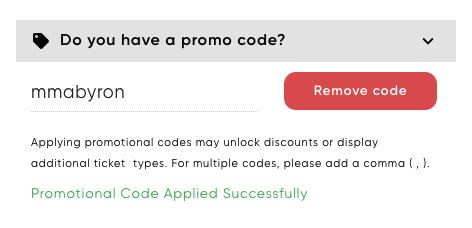 Join us for an expansive day of expert discussions on the new science of psychedelics for mental health, followed film screenings of Trip of Compassion and Fantastic Fungi.
Mind Medicine Australia's first Psychedelic Medicine Symposium is a 2 day event featuring inspirational talks and panel discussions with industry experts, entertainment, meditations, healing sound baths and much more!
Don't miss this incredible opportunity to be a part of the conversation and join us as we usher in a new paradigm in mental health for all Australians in need.

Date: Sunday 27th of June 2021
Time: 11:00am – 5:00pm (incl Q&A Panel)
Location: Byron Community Centre and Byron Theatre, 69 Jonson St, Byron Bay NSW 2481, Australia
Ticket Prices and bundles:
Sunday Education Sessions only
Full – $117
Concession – $97
Or choose one of our Symposium Ticket Packages and save:
Full Symposium Package: Sunday Education Sessions plus Trip of Compassion and Fantastic Fungi screenings
Full – $167
Concession – $137
Sunday Education Sessions and Trip of Compassion screening 
Full – $147
Concession – $117
Sunday Education Sessions and Fantastic Fungi screening
Full – $147
Concession- $117
Trip of Compassion and Fantastic Fungi screenings
Full – $60
Concession – $40
Trip of Compassion
Full – $35
Concession $25
Fantastic Fungi 
Full – $35
Concession – $25
Program:
DOWNLOAD THE FULL PROGRAM HERE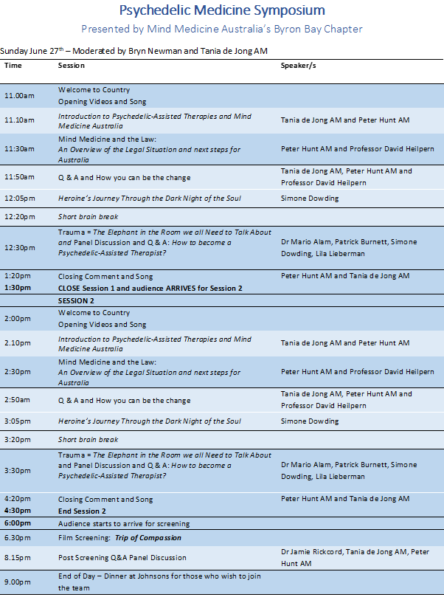 More about medicinal psychedelic treatments:
Psychedelic-assisted treatments offer enormous potential in providing a meaningful alternative to current treatments for mental illness. PTSD is a debilitating condition that affects tens of millions of people worldwide, with many more trauma victims diagnosed with comorbid conditions such as depression, anxiety and eating disorders. In recent clinical trials, MDMA has been shown to produce reliable clinical improvements, restoring patient safety and self-agency even for individuals who have suffered with PTSD for many years, and for whom many treatments have failed.
The wave of clinical psychedelic research and regulatory support is rapidly building, with experts forecasting the availability of psychedelic-assisted treatments in the US and EU within the next 2 to 5 years, subject to positive clinical outcomes in large trials that are currently underway
Session 2: Film Screening – Trip of Compassion 
Date: Sunday 27th of June 2021
Time: 6:00pm for 6:30pm start – 8:45pm (incl Q&A Panel)
Location: Byron Community Centre and Byron Theatre, 69 Jonson St, Byron Bay NSW 2481, Australia
Ticket Price: $35 General Admission / $25 Concession
Trip of Compassion – A window into psychedelic-assisted therapies (incl. Q&A)
Mind Medicine Australia is thrilled to welcome you to our Byron Chapter screening of Trip of Compassion, an acclaimed documentary on MDMA-assisted psychotherapy for the treatment of Post-Traumatic Stress Disorder (PTSD). Trip of Compassion follows several patients participating in clinical trials in Israel and is the first feature documentary to show footage from within psychedelic-assisted therapy sessions.
"I felt like I went through 15 years of psychological therapy in one night."
Patient featured in Trip of Compassion
View the trailer here:
Following the screening there will be a Q&A panel discussion with Dr Jamie Rickord, Tania de Jong AM and Peter Hunt AM. This will be an opportunity to engage in a discussion about psychedelic-assisted psychotherapies, and what Mind Medicine Australia and other local organisations are doing here in Australia.
Session 3: Film Screening – Fantastic Fungi
Date: Monday 28th of June 2021
Time: 6:00pm for 6:30pm start – 8:45pm (incl Q&A Panel)
Location: Byron Community Centre and Byron Theatre, 69 Jonson St, Byron Bay NSW 2481, Australia
Ticket Price: $35 General Admission / $25 Concession
In a world where people feel so deeply disconnected, the use of medications to further detach them may work to dampen the emotions that are experienced, but often provide little relief and no profound insights into the internal experience of life. What science has shown is that psilocybin works to calm the region of the brain called the Default Mode Network and stimulate connections between new or under-utilised regions of the brain.
View the trailer here:
This stunning film by award-winning director Louie Schwartzberg touches on the ground-breaking work being done at Johns Hopkins, UCLA, New York University and other places. It will open a door to a meaningful and important conversation and exploration into the potential mushrooms offer.
Following the screening there will be a Q&A panel discussion with Dr Mario Alum, Tania de Jong AM and Peter Hunt AM. This will be an opportunity to engage in a discussion about psychedelic-assisted psychotherapies, and what Mind Medicine Australia and other local organisations are doing here in Australia.
The Presenters
Dr Jossy Antony
Jossy Antony is a General Adult Psychiatrist who works full time and runs a private Mental health clinic called Reflect Health in Geelong.  He completed Membership from UK and Fellowship from Australia in Psychiatry. He started his clinic last year with the intention to provide a holistic nurturing space for mental health assessment and treatment. He is passionate about his own inner journey. He has a special interest in ADHD but wants to expand into trauma as well after he was inspired by Bessel Van der Kolk and Gabor mate. He also has an interest in Nutritional Psychiatry. He is currently doing a Certificate in Psychedelic Assisted Psychotherapy through Mind Medicine Australia.
Dr Mario Alam
MBBS, FRACGP
Dr Mario advocates and embodies a 'whole picture' approach to health. He marries his professional skills in Western Medicine with wisdom and knowledge gained from personal interaction with spiritual elders, shamans and medical pioneers across the world. He has travelled to over 50 countries gaining unique insights into the human condition.
His signature program RESET is as a breakthrough program to prepare for and integrate psychedelic medicines and to effectively provide holistic solutions to the healing of trauma.  Based in Byron Bay, Australia, his Reset Retreats Centre focuses on integration therapies and embodiment to the teachings of the various Psychedelic medicines.
Well loved by his patients for his deep intuitive presence, he has a passion for community, and the integration between science and spirituality.
Mario is a Graduate of the first pioneering cohort of Mind Medicine Australia's Certificate in Psychedelic-Assisted Therapies course.
Mark Baxter
B.Science (Psych), Grad Dip (Psych)
​Mark has been practicing as a psychologist for 16 years and finds a lot of meaning through work. He enjoys listening to people, and supporting them to transform and find freedom. Mark engages with people in a collaborative, accepting, compassionate and non-judging spirit. This is combined with his ongoing training in cognitive, behavioural, acceptance, somatic and mindfulness based approaches; including ACT, EMDR, MI and IFS. With the wave of new research and knowledge around using psychedelics for mental health, personal and spiritual growth; it's important that people can be supported to ensure their experiences are safe and valuable. Mark provides a safe space to talk through psychedelic experiences, to integrate important insights, or to think carefully about preparation, suitability and harm minimisation.
As a psychologist, his clinical interest areas are depression, anxiety, post-traumatic stress and trauma recovery, psychosis, schizophrenia, bipolar, addictions, grief, loss and experiences of existential dilemma, anguish or distress. Alongside helping people with mental health difficulties, he is equally interested in the areas that contribute to human flourishing. This includes cultivating relationships, activities and habits that promote growth, belonging and contentment. And also experiences that facilitate self-transcendent positive emotions, known to have powerful effects on our wellbeing and connectedness.
He is based in Wollongong, can provide telehealth sessions and is a registered provider with Medicare, Private Health funds, NDIS, Open Arms and WorkCover.
Patrick Burnett
Patrick has been working as a Jungian Psychoanalyst for 25 years doing long-term psychotherapy. He works from his office in Bangalow NSW and also through Zoom. Patrick is a member of the Australian and New Zealand Association of Jungian Analysts (ANZSJA), the International Association of Analytical Psychology (IAAP) and is the secretary of the Australasian Confederation of Psychoanalytic Psychotherapies (ACPP).
Simone Dowding
Simone joined Storytowns in December 2020. Voted top 50 Business Woman for 2020. She is a successful entrepreneur and CEO, who for 13+ years founded and lead an award winning wholesale distribution company with 50 staff and six sites across Australia. She has also recently worked in senior management for World Vision Australia as the Head of social enterprise. Simone was responsible for the start up and international scaling of Change Coffee that contributed all sales to the global economic empowerment of women. Simone is a consultant business lecturer for Melbourne university and Monash. She is also a national speaker on social impact, sustainability and innovation. She also lived with the Tibetan monks and studied with The Dalai Lama in his monastery in India. A teacher of meditation and mindfulness. Simone also holds a degree in Psychology, and is experienced in design thinking and system mapping and currently a fellow of the Centre of Sustainable leadership.
David Heilpern was appointed as a Magistrate in 1998, and was at the time the youngest magistrate in Australia. He 'retired' in May 2020. He sat in the criminal, mining, family, industrial, coronial and children's jurisdictions of the Local Court, and was the Senior Civil Magistrate for five years. During his time on the bench, David was the principal educator for new magistrates throughout Australia and the Pacific and made several important reported decisions on criminal, environmental and evidence law.
Prior to his appointment, David was a litigation lawyer on the North Coast where he co-founded the law school at Southern Cross University, rising to becoming the Acting Dean in 1996. He maintained a litigation practice throughout this time, representing a wide range of defendants including high profile clients North East Forrest Alliance and Nimbin Hemp. During this time David graduated with a Masters in Law and was pronounced the Alumni of the Decade for the University in 2005.
David has written four published books, three of which have now had multiple editions, dozens of refereed journal articles, and is a prize-winning short story writer and poet.
David has recently been appointed as a Professional Practice Professor and Adjunct Professor at the School of Law and Justice at Southern Cross University. He has returned to the practice of law and his writing is now focussed on drug law reform, aboriginal overrepresentation in the criminal justice system and environmental activism.
Tania de Jong AM
LL.B (Hons), GradDipMus
Co-founder Mind Medicine Australia, Founder Creative Universe, Creativity Australia, The Song Room & Creative Innovation Global
Tania de Jong AM is the co-Founder and Executive Director of Mind Medicine Australia. She regularly presents on psychedelic-assisted therapies, mental health and wellbeing at major conferences and events around the world and to Governments, regulators, clinicians, philanthropists and the general public.
Tania is one of Australia's most successful female entrepreneurs and innovators developing 6 businesses and 4 charities including Creative Universe, Creativity Australia and With One Voice, Umbrella Foundation, Creative Innovation Global, Pot-Pourri and The Song Room.
Tania was named in the 100 Women of Influence, the 100 Australian Most Influential Entrepreneurs and named as one of the 100 most influential people in psychedelics globally in 2021. Tania's TED Talk has sparked international interest. Tania has garnered an international reputation as a performer, speaker, entrepreneur and a passionate leader for social change. Her mission is to change the world, one voice at a time!
Peter Hunt AM
B.Com, LL.B
Founder & Chair of Mind Medicine Australia
As an investment banker Peter Hunt AM advised local and multi-national companies and governments in Australia for nearly 35 years.  He co-founded one of Australia's leading investment banking advisory firms, Caliburn Partnership and was Executive Chairman of Greenhill Australia. Peter was a member of the Advisory Panel of ASIC and chaired the Vincent Fairfax Family Office.
Peter is an active philanthropist involved in funding, developing and scaling social sector organisations which seek to create a better and fairer world.  He is Chairman of Mind Medicine Australia which he established with his wife, Tania de Jong, in 2018. He regularly presents to Governments, regulators, clinicians, philanthropists and the general public on psychedelic-assisted therapies and the legal and ethical frameworks needed to ensure these treatments can be made accessible and affordable.
He founded Women's Community Shelters in 2011. Peter is a Director of The Umbrella Foundation. Peter also acts as a pro bono adviser to Creativity Australia.  He was formerly Chairman of So They Can, Grameen Australia and Grameen Australia Philippines.
Peter was made a member of the General Division of the Order of Australia in the Queen's Birthday Honours List in 2010 for services to the philanthropic sector.
Mark Melek
Mark believes wholeheartedly that we are nourished by each other.
Initially Mark completed undergraduate degree at the University of New South Wales completing a Bachelor of Economics majoring in Econometrics and went on to study Medicine at Flinders University graduating in 2011.
Having transitioned from a career in management consulting, Mark was inspired to study medicine and open a practice in the Illawarra that offers meaningful medicine – a place to connect with your general practitioner, your community and each other.
Mark is passionate about his patients' mental wellness and has developed a strong reputation in this area. He appreciates the importance of nutritional and environmental health recognising the importance of community and a sense of purpose. Specialising in Mental Health has made him aware of the limitations of the current paradigm of mental healthcare which has nurtured an interest in psychedelic medicine and exploring what this realm has to offer.
Bryn Newman
Bryn Newman is a multidisciplinary digital specialist by day, by night she's an artist exploring the depths of consciousness, community, sexual empowerment and spirituality. She's on a mission to help people use creativity as medicine. She chairs Mind Medicine Australia's Byron Bay chapter and is passionate about psychedelic therapies and creative practices for mental health.
Eva Papadopoulo
Eva has been in private practice as a somatic psychotherapist in Sydney since 2000. Her training involved humanistic, psychodynamic and body-based approaches. She has since trained in Eye Movement Desensitisation Reprocessing (EMDR), Internal Family Systems (IFS), Tremor Releasing Exercises (TRE), Ortho-Bionomy and is a certified Mindfulness teacher.
Her interest in an integrated bodymind approach has led her to working with trauma, PTSD, body dysmorphia and the dying process.
Recently completing CPAT Eva anticipates the availability of psychedelic medicines and their use in addressing mental health. Currently she is offering harm minimisation and integration sessions.
With a passion for helping people live and die with more peace,
Eva is deeply interested in assisting people find freedom from suffering, developing a reliable sense of self and remembering our interconnectedness.
Eva also offers supervision and is a co-founding director of the Mindfulness Training Institute of Australia and New Zealand.
Renée Sloan
Renée Sloan is a therapeutic arts practitioner and soul-focused psychedelic integration therapist. After completing a research Honours degree in psychology and experiencing the limitations of dualism within the biomedical model in practice, Renee moved to Rishikesh Northern India to study the wisdom of Yoga and became a yoga and meditation teacher. Renee has spent the last 10 years traveling, learning, teaching, and studying human consciousness and the nature of mind. Renee's time spent working in various indigenous communities as well as her own ongoing ineffable experiences with plant medicine, particularly Ayahuasca, provide her with an ever-deepening well of experiential knowledge and wisdom to support others on their healing journeys. Passionate about the healing potentiality of the sacred and creative arts and entheogenic plant medicine, in 2017 Renee founded Laprana, a mind-body-spirit integrative practice based in Melbourne offering psychedelic preparation, integration therapy, and ongoing spiritual counselling.
Dr Frederick Swann
Dr Fred Swann has been working as a Chiropractor since 2000, is a director at Tree of Life Integral Centre, and co-founder of Integral Energetics, a training and development program which has been developed to deepen ones understanding of the Energetic Field and its relationship to the body, the psyche and spiritual consciousness, and explore the connectivity of these often separated components, that constitute reality.
Fred has a particular interest in non-ordinary states of consciousness and how these states can be of benefit for healing the body from trauma and injuries, and also the generation of embodied flow states to enhance performance and life enjoyment.