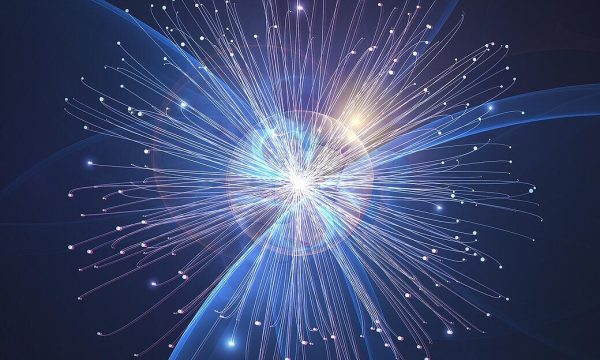 I want to start with a snapshot of how I am possibly different from the average person. I don't smoke or drink. Before this chapter of my life began, I'd never taken any drugs besides prescription medication (and those as rarely as possible). I live in Melbourne, the coffee capital of Australia, and don't even drink it.
Yet today, my life revolves around psychedelic medicines – heavily stigmatised substances still illegal in most countries. This huge shift is likely confusing. However, my personal journey can hopefully provide a deeper understanding of why I co-founded Mind Medicine Australia (MMA), and how psychedelic-assisted therapy could change the face of mental health treatment.
Helping People find their Voice
Over the past two decades, I've founded 6 companies, 3 charities and am a Member of the Order of Australia. I'm a global speaker and an international soprano – performing both as a soloist and as part of a group and have released 12 albums.
Singing has always been a huge part of my life. This motivated me to create the charity Creativity Australia and social inclusion program, With One Voice. My mission was to bring together people from different backgrounds, generations, faiths, and cultures by forming social inclusion choirs that bring together 'haves' with 'have-nots'. Singing together can help alleviate loneliness, depression, and social isolation. I explain this further in my recent TED talk, which has received over 100,000 views so far.
I've personally witnessed that helping people find their voice can unlock their full creative potential. Similarly, I also believe psychedelics have a monumental role in helping achieve this. I know they will allow me to scale this mission… but I'll get back to that. First, I think it's important to tell you about my own experiences with psychedelics.
From Sober to Psilocybin Seeker
Taking an illegal substance had never occurred to me until I stumbled across Michael Pollan's article in The New Yorker titled 'The Trip Treatment.' Reading it not only made me aware of the current resurgence in psychedelic research but also helped me to understand how these ancient plant medicines were assisting people to heal from a host of mental health issues.
From that point on, my interest in trying these hallucinogenic plants began to grow. I had no idea what it was like to be drunk or out of control. Yet the majority of people expose themselves to these altered states on a regular basis. I wondered if perhaps I was missing out on an essential human experience. What could psychedelics teach me about who I am or who I could be? Through exploring my psyche, what unknown parts of myself and our cosmos could psychedelics grant me access to?
So, I recruited the support of my now-husband Peter, and set out on a quest to have a therapeutic experience with psilocybin mushrooms. Having sadly lost his father to suicide in his early teens, Peter was also interested in dealing with past traumas.
However, being able to do this in a safe and legal setting proved difficult. After first trying and failing to get into global trials for healthy patients, we were ultimately referred to a private therapist in the Netherlands, where the use of psychoactive truffles is legal. We ingested a large dose of psilohuasca – a combination of psilocin-containing fungi and Syrian Rue, a MAO inhibitor used to enhance and prolong the effects of a trip.
The Inner Journey
Fair warning – describing what it's like when you take psychedelic substances is difficult. My first time was completely removed from anything I'd encountered before. Unless you've personally experienced it, there's really no reference point for understanding what it's like. However, I can tell you that from then on, my life veered off in a very different direction.
The combination of having never lost control before and hearing stereotypes around psychedelics, made me incredibly nervous. I believed that it was going to destroy my brain. Turns out, this is far from reality. What happened was one of the most meaningful experiences of both our lives.
Firstly, the medicine completely shot us into space and, at the same time, through the Earth, rivers and oceans. What initially overwhelmed me was this incredible sense of oneness.It was as if all boundaries dissolved and I was left with the sheer magnificence of our planet. The connectivity of everything was indescribable. I haven't been able to eat meat or even step on an ant since.
Being confronted with personal pain is a common experience during a psychedelic trip. For myself, as the daughter and granddaughter of Holocaust survivors, I've lived with transgenerational trauma my whole life. I was faced with this horror during my experience and have undergone transformational healing as a result.
These realisations were profound, but it's the deeper insights we gained about ourselves that have left a lasting impression. The self-development Peter and I dove into following that first overseas expedition was vital for us to really integrate our life-changing experience. These lessons were so powerful, we didn't feel compelled to have another session for a whole year. Research shows that the psychedelic experience significantly decreases activity in the brain's default mode network. However, it's the work that's achieved in subsequent integration that leads to lasting wisdom. Incorporating the experience into your life, is just as important as the experience itself.
The neurogenesis and increased neural plasticity created by the medicines is truly remarkable. It's like hitting the reboot button on your brain's computer and defragging the faulty drives. I've noticed my creativity has increased tremendously. I'm able to access more moments of flow and purity in my singing, public speaking and writing. I've also recognised real lifts in my energy and consciousness. I feel many neural pathways have reconnected for me, new ones have formed and missing parts of myself have been found.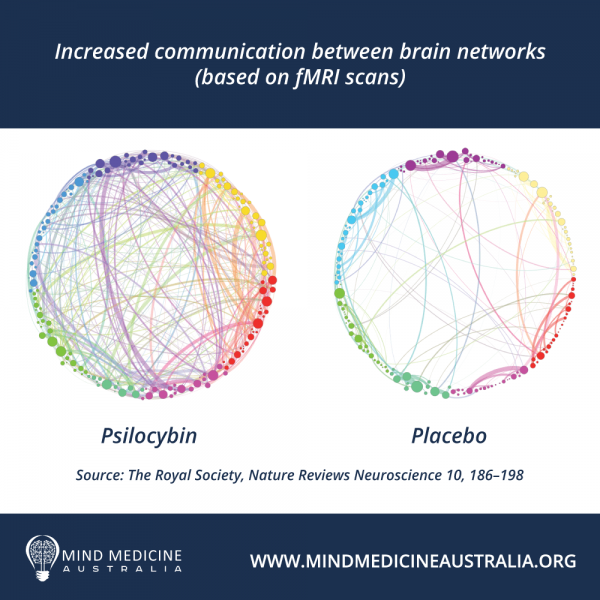 Creating a Movement and Making a Difference
Fast forward a few years later and Peter and I now seek out a session every four to six months. We call it our reset button. Every time we work with these medicines, we get new downloads and join more dots. Not only have we woven psychedelics into our lives, but the immense value we've gained from these magical medicines is what inspired us to establish our fifth charity, Mind Medicine Australia in 2019. Whilst our other charities are helping thousands of people through women's shelters, social inclusion choirs, educational programs, poverty alleviation and microfinance, we acknowledge that at the heart of any kind of social isolation or disadvantage lies mental illness.
Mental illness keeps a person isolated. Sufferers often deal with rigid, negative thought patterns and intense feelings of despair. Every day we get emails and calls from those who've tried medication or therapy and are at the end of the road. We need to treat the underlying cause if people are to genuinely heal and lead more meaningful lives.
Having celebrated our second anniversary in February 2021, MMA is focused on expanding the treatment paradigm available to specialist health practitioners to reduce Australia's terrible mental health statistics, which are worsening because of the current and ongoing COVID-19 pandemic. Of particular concern and pertinence are the high levels of mental illness, addiction, and suicide amongst the veteran, first responder and other marginalised population groups.
Before the pandemic, 1 in 5 Australians were experiencing some type of mental illness. 1 in 8 adults, 1 in 4 older people and 1 in 30 children (some as young as four) were estimated to be on anti-depressants. Their use across the country has risen by a massive 95% over the past 15 years. Still, mental health statistics continue to get worse, resulting in one of the highest rates of mental illness in the world. Recently, mental health experts announced that the COVID-19 crisis could lead to a 25% increase in suicide rates. Incidence of trauma, anxiety, depression and substance abuse are all accelerated by the pandemic.
Depression treatment methods haven't substantially changed for decades and reversion rates are as high as 80% following medication. Side effects and withdrawal symptoms are common problems. Anti-depressants and psychotherapy lead to remission for less than 35% of suffers and the rates for PTSD are around 5%.
On the other hand, MDMA and psilocybin-assisted therapies are considered safe with remission rates of between 60-80% being achieved from over 150 current and recent trials. Evidence suggests psychedelics are low in toxicity, non-addictive, and show no signs of producing organ damage or neuropsychological side effects. These medicines are also proving to be very effective at treating various addictions. Practitioners describe them as 'antibiotics for the mind' due to their outstanding efficiency and short nature of treatment programs.
Research showing the benefits of these therapies are taking place at many of the world's most prestigious universities including Johns Hopkins, Yale, UCLA, Harvard, Oxford and Imperial College London. Furthermore, these therapies are already legally available in the USA, Switzerland, Canada, Israel via Special Access Schemes. Some psychiatrists and prescribing physicians we work with have also recently received approvals for use of MDMA and psilocybin-assisted therapy for their treatment resistant patients via Australia's SAS-B pathway.
Psilocybin-assisted therapy for depression and MDMA-assisted therapy for PTSD have achieve "Breakthrough Therapy" designation from the FDA in the USA. This designation is only granted to medicines that could be vastly superior to existing treatments to fast-track the approval process. MDMA, which is in Phase 3 trials, is likely to be a prescribed treatment for PTSD in the USA within 18 months. There are also trials underway for the treatment of end-of-life depression and anxiety, alcohol and drug addiction, dementia, strokes, anorexia and other eating disorders, cluster headaches and chronic pain.
Scaling the Mission to Set People Free
In preparation, we need to ensure that practitioners are properly trained. Our Certificate in Psychedelic-Assisted Therapies commenced in January 2021. This is the first course of its kind in this field in the Southern Hemisphere and is being designed in collaboration with the world's leading programs and features a Faculty of global leaders in this field. Both our intakes for 2021 are proving popular with practitioners including psychiatrists, psychologists, GPs, mental health nurses and social workers.
Mind Medicine Australia is in the process of establishing an Asia-Pacific Centre for Emerging Mental Health Therapies. Its main mission is to expand the mental illness treatment paradigm in Australia and boldly position Australia as a global leader in mental health innovation, with partnerships encompassing University, philanthropic, private industry, and government sectors. MMA is also a part-funder of the nation's first psychedelic clinical trial, currently underway at Melbourne's St Vincent's Hospital. We are also currently planning a Major International Summit for 2021, attracted a great Board, Advisory Panel and have support from major players in the psychedelic space. These include pioneers Roland Griffiths from Johns Hopkins University, David Nutt and Robin Carhart-Harris from Imperial College London, Rick Doblin from MAPS and many others.
What psychedelic medicines provide is an extremely effective treatment option for medical professionals who are desperately seeking innovation in the way we treat mental illness. They can help us rediscover our connection to ourselves. We can't love others unless we first love ourselves. Psychedelics used intentionally also have the potential to help us solve other serious challenges, such as environmental and political issues, homelessness, and domestic violence.
A great deal of pain and suffering could be alleviated by introducing genuine connection back into people's lives. If the pandemic is teaching us anything, it's that humans are social creatures, and losing that connection can drastically affect our health and wellbeing. My first mission was to heal through the power of music, and don't get me wrong, I'm still very dedicated to doing this. Yet today, with MMA, we're taking that mission and scaling it in a way I could've never imagined possible.
Tania de Jong AM
LL.B (Hons), GradDipMus
Tania de Jong AM is the co-Founder and Executive Director of Mind Medicine Australia. She regularly presents on psychedelic-assisted therapies, mental health and wellbeing at major conferences and events around the world and to Governments, regulators, clinicians, philanthropists and the general public.
Tania is one of Australia's most successful female entrepreneurs and innovators developing 6 businesses and 4 charities including Creative Universe, Creativity Australia and With One Voice, Umbrella Foundation, Creative Innovation Global, Pot-Pourri and The Song Room.
Tania was named in the 100 Women of Influence, the 100 Australian Most Influential Entrepreneurs and named as one of the 100 most influential people in psychedelics globally in 2021. Tania's TED Talk has sparked international interest. Tania has garnered an international reputation as a performer, speaker, entrepreneur and a passionate leader for social change. Her mission is to change the world, one voice at a time!