In our first four years, we have made remarkable progress in growing public awareness of, and creating access pathways for Psychedelic-Assisted Therapy in Australia. With the success of our rescheduling applications in early 2023, we are seeing access open up for the use of psilocybin and MDMA-assisted therapy for treatment-resistant depression and PTSD respectively. This is an important and historic moment for these therapies and for mental health treatment in Australia. The TGA decision open access to these innovative treatments for Australians suffering from treatment resistant mental illness and paves the way to treat other illnesses such as additions, obsessive-compulsive disorder, anorexia, cognitive decline and end-of-life stress in the future.
Our goal is to build the ecosystem for these treatments in Australia and ensure they are accessible to all who need them in medically controlled environments. Please see our key strategic objectives below.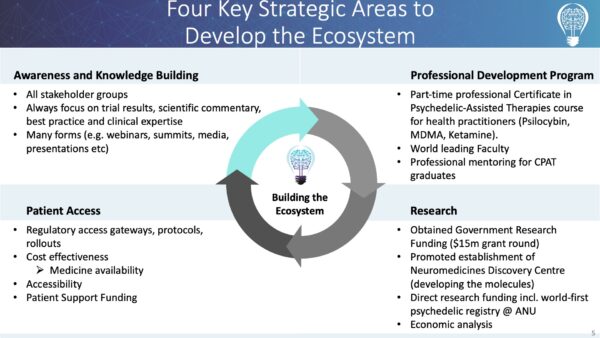 What we have achieved in four years with your support:
Awareness and Knowledge Building
• 200+ webinars, screenings and special events attracting 41,000+ participants
• Facilitating Professor David Nutt's incredibly successful Australian tour in November 2022, where he presented to public audiences, clinicians and decision makers. This tour included a presentation to over 130 people at the TGA in relation to the rescheduling of MDMA and psilocybin.
• Launch of free online Global Webinar Series where World-leading experts provide illuminating presentations and conversations about the ground-breaking opportunity psychedelic-assisted therapies offer.
• Launch of Mind Medicine Australia Podcast series
• Over 550,000 visits to the Mind Medicine Australia website
• Over 39,000+ followers on our social media channels
• Over 500,000+ views on our YouTube Channel
• 6000+ visits to our e-book about psychedelic-assisted psychotherapies
• Over 35,000+ people in our database incl. over 15,000 health professionals and over 1000 psychiatrists
• 500+ regular donors
• 200+ media appearances
• 33+ local Chapters around Australia and New Zealand with 2200+ members and growing
• 55,000+ views to our TGA How-to guide during the 2022 public submission period
• Video animation explaining the mental illness epidemic in Australia and the benefits of psilocybin and MDMA-assisted psychotherapy with 80,000+ views
• Created a short documentary, Science vs Stigma, to dispel some of the myths associated with these important medicines with over 28,000+ views
• Over 150,000+ views of Shroom Boom, a light-hearted music video
• Implemented a Board Observership program in conjunction with VMIAC.
• Appointed as member of peak body, Mental Health Australia
• Launch of MMA online shop selling a range of unique merchandise including Australia's first book of Psychedelic Healing Stories
• Initiated Australia's first Essential Research poll to gauge the sentiment of the Australian public on the issue of access to psychedelic medicines in medically controlled environments as treatments for key classes of mental illness. 67% agreed that 'People experiencing terminal illness should have the choice to use psychedelic-assisted therapy to ease end of life distress'.
• Presented and produced Mind Medicine Australia's inaugural International Summit on Psychedelic Therapies for Mental Illness in November 2021
• Nearly 1000 people registered for our two-day workshop and Global Summit from every state of Australia and more than 15 other nations
• Over 90,000 views of our Summit sizzle reel
• Over 80,000 visits to the Summit website
• Over 5000 queries received from the Summit website
• 110 virtual breakout rooms
• 32 global leaders in the field presented on a range of topics
• 19 major Corporate partners
• Over 160 Education partners
• 17 Supplier Partners
• 15 Media Partners
• 8 Scholarship winners
• 5 Poster winners
• 1 global 4-day event with massive impact
Access to Medically Approved Therapy
• Successful submissions made to the TGA to reschedule MDMA and psilocybin from Schedule 9 (Prohibited Substances) to Schedule 8 (Controlled Medicines), allowing limited access to MDMA and psilocybin-assisted therapies from July 1 2023 via the TGA's Authorised Prescriber scheme
• Granted an Innovation Patent over an improved method of synthesis of MDMA
• Successfully procured medical grade GMP standard psychedelic medicines for import to Australia for use in trials and as part of the TGA's Authorised Prescriber scheme from July 1 2023
• Established the Patient Support Fund (PSF). Donations into this fund will provide subsidised treatment for those who otherwise could not afford it
• Developing a gold standard National Care Program, clinical protocols and standard operating practices for psychedelic-assisted therapies in partnership with leading clinical groups around Australia
• Key university student placement partnerships with University of Melbourne
Professional Development Program
• Our highly anticipated Certificate in Psychedelic-Assisted Therapies commenced in January 2021 featuring a world class Faculty. We have been thrilled to welcome 260 therapists including GPs, physicians, psychiatrists, psychologists, psychotherapists, mental health nurses, social workers, occupational therapists, addiction specialists, paramedics and counsellors.
• Confirmed world-leading facilitators for our Certificate in Psychedelic-Assisted Therapies (CPAT) professional development course
• Engaged Dr Gita Vaid (USA) as the course's International Course Director and Dr Eli Kotler as the Australian Course Director for our 2023 program.
• Described as "the best course of its kind in the world" by Prof. David Nutt on ABC Radio National interview (UK)
• Over 700+ applications received since launch
• Over $300,000 raised for CPAT grants through philanthropy to support those in regional and rural areas and therapists suffering financial hardship. Over 50 grants have been awarded so far.
• Over 127,000+ views of the CPAT sizzle reel
• Launch of the Fundamentals in Psychedelic-Assisted Therapies Course with over 320+ participants so far
• Developed a mentoring program for graduates of PAT training, allowing ongoing professional development with global leaders in the field
• Recognition by key peak/membership bodies of our professional development and training programs
Engagement with University Sector and Novel Research
• Successfully advocated for $15 million to support innovative mental health clinical trials utilising psychedelic-assisted therapies from the Federal Government through the Medical Research Futures Fund
• Supported the launch of Psychedelic-Assisted Therapy Research Registry at ANU, which will allow for outcome data to be collected from treatment with PAT around Australia
• Launch of The Monash University Neuromedicines Discovery Centre, initially proposed by MMA and developed over a 2-year period
• 17+ current trials of psilocybin, MDMA, LSD and Ibogaine in Australia and New Zealand.
• Developed a BLOG, significant education resources and partnered with Universities to disseminate these as well as sharing these via our website
• Discussions with key University stakeholders continue
Noteworthy from Media Releases:
• Breaking News: The TGA Announces the Delegate's Final Decision to Reschedule the Use of Psilocybin and MDMA for Medical Purposes
• An Open Letter to the Prime Minister in November 2022
• TGA Expert Review Findings Support the Therapeutic Use of Medicinal Psychedelics in Treating Mental Health Crisis in October 2021
• Mind Medicine Institute Launched as a Dedicated Training, Education and Clinical Services Organisation Focusing on Psychedelic Assisted Therapies for Mental Illness and the Developing Understanding of the Mind, Cognition and Human Consciousness in October
• Mind Medicine Australia Launched Australia's First Book of Psychedelic Healing Stories in October 2021
• Monash University announced the establishment of the Neuromedicines Discovery Centre to Focus on Psychedelic-Assisted Therapies for the Treatment of Key Classes of Mental Illness in November 2021
• Mind Medicine Australia hosted Australia's Inaugural International Summit on Psychedelic Therapies for Mental Illness online in November 2021
• Mind Medicine Australia joined a global coalition launched to secure a rescheduling of psilocybin under the 1971 UN Convention on Psychotropic Substances in January 2022
• New Polling by Mind Medicine Australia Revealed Over 60% of Australians Support Increased Access to Psychedelic Medicines in February 2022
• Mind Medicine Australia Lodged New Applications for the Restricted Medical use of MDMA and Psilocybin Assisted Therapies for Patients with Treatment Resistant Mental Illnesses in March 2022. The full applications can be found here.
The progress we are making in public education was exemplified in several headline media articles including in the Australian Financial Review, The Australian, The Age, Herald Sun, The Saturday Paper and Vogue Australia and media interviews including with Channel Nine, Channel 10, The Project, ABC and numerous other TV and radio stations and online media.
In February 2023 the TGA announced that MMA's rescheduling applications for MDMA and psilocybin were successful. This decision allows psychiatrists to apply for Authorised Prescriber status to administer psilocybin-assisted therapy for treatment-resistant depression and MDMA-assisted therapy for PTSD.
Our primary focus over the next couple of years will be on facilitating the roll out of psilocybin and MDMA-assisted psychotherapy in light of this regulatory change. We are also interested in novel research in this rapidly emerging field to treat a variety of conditions.
Behind the scenes, we are working closely with key stakeholders to ensure that these therapies will be accessible and affordable to all Australians needing these treatments in medically controlled environments, so that cost and geography doesn't become a barrier.
In the last four years, we have assembled a comprehensive leadership team with expertise in mental illness including psychology, neuroscience and pharmacology, non-profit development, business practices and networks, public health, events, marketing and educational development.
Mind Medicine Australia is also supported by an outstanding Board, Ambassadors, and an Advisory Panel of over 70 local and international experts in medicine, psychiatry, psychology, pharmacology, research, science more broadly, ethics, law, policy, anthropology, business and therapeutic practices. We have also developed a Lived Experience and Young Leaders Panel.
As we move through 2023, our vision and capacity continue to grow. With these medicines becoming legally available in Australia, we turn our focus toward ensuring they are accessible and affordable to all Australians who could benefit from them.
We ask for your continued and expanded support so that we can fund the path for psilocybin and MDMA-assisted psychotherapy to help treat the millions experiencing key mental illnesses in Australia. This is personal for every one of us.
As Carl Jung said, "The sole purpose of human existence is to kindle a light in the darkness of mere being."
With gratitude for your interest and generosity. There has never been a more important time to support innovation in the treatment of mental illness.
Peter Hunt AM and Tania de Jong AM
Tania de Jong AM
LL.B (Hons), GradDipMus
Tania de Jong AM is the co-Founder and Executive Director of Mind Medicine Australia. She regularly presents on psychedelic-assisted therapies, mental health and wellbeing at major conferences and events around the world and to Governments, regulators, clinicians, philanthropists and the general public.
Tania is one of Australia's most successful female entrepreneurs and innovators developing 6 businesses and 4 charities including Creative Universe, Creativity Australia and With One Voice, Umbrella Foundation, Creative Innovation Global, Pot-Pourri and The Song Room.
Tania was named in the 100 Women of Influence, the 100 Australian Most Influential Entrepreneurs and named as one of the 100 most influential people in psychedelics globally in 2021. Tania's TED Talk has sparked international interest. Tania has garnered an international reputation as a performer, speaker, entrepreneur and a passionate leader for social change. Her mission is to change the world, one voice at a time!
Peter Hunt AM
B.Com, LL.B
As an investment banker Peter Hunt AM advised local and multi-national companies and governments in Australia for nearly 35 years.  He co-founded one of Australia's leading investment banking advisory firms, Caliburn Partnership and was Executive Chairman of Greenhill Australia. Peter was a member of the Advisory Panel of ASIC and chaired the Vincent Fairfax Family Office.
Peter is an active philanthropist involved in funding, developing and scaling social sector organisations which seek to create a better and fairer world.  He is Chairman of Mind Medicine Australia which he established with his wife, Tania de Jong, in 2018. He regularly presents to Governments, regulators, clinicians, philanthropists and the general public on psychedelic-assisted therapies and the legal and ethical frameworks needed to ensure these treatments can be made accessible and affordable.
He founded Women's Community Shelters in 2011. Peter is a Director of The Umbrella Foundation. Peter also acts as a pro bono adviser to Creativity Australia.  He was formerly Chairman of So They Can, Grameen Australia and Grameen Australia Philippines.
Peter was made a member of the General Division of the Order of Australia in the Queen's Birthday Honours List in 2010 for services to the philanthropic sector.